Ordinary Sunday collections total (actual donations as of July 2, 2023)
$785,187 donated of $814,320 goal (96.42%)
---
---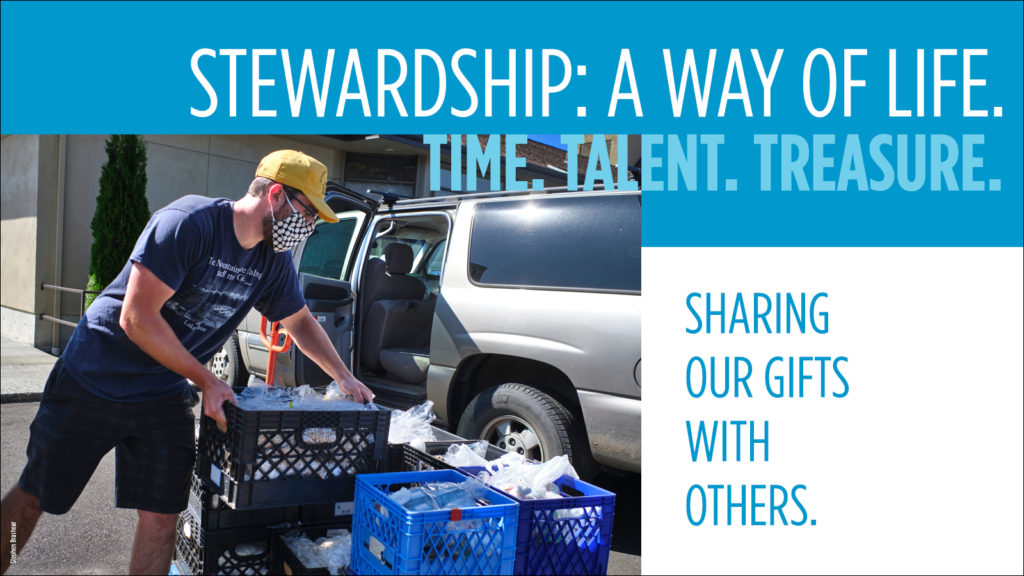 Click here or on the stewardship image to easily and securely give online to support our parish. Thank you for your generosity!
If you would like to make your pledge without giving at this time, you may submit that online at our online pledge page (click here).
2022-2023 stewardship campaign response as of April 20, 2023
Pledged: $421,228 of $814,320
Response: 180 of 776 families
$421,228 pledged of $814,320 goal (52%)
24% parish participation (180 of 776 families)
The 2022 Annual Catholic Appeal is underway! This yearly campaign is part of fulfilling our obligation to support not only our local parish, but the work of the entire archdiocese. The Annual Catholic Appeal contributes to the formation of seminarians, the care of retired priests, the staffing of the chancery, and other work throughout the archdiocese – from the border of Canada to the Oregon state line! Please prayerfully consider how you will participate in this work and use this link (or click the Annual Catholic Appeal image) to make a donation today.
2022-2023 ACA – response as of April 5, 2023
Pledged: $76,669 of $79,000 ($2,331 short)
Response: 184 of 776 families
$76,669 pledged of $79,000 goal (97.05%)
24% parish participation (184 of 776 families)