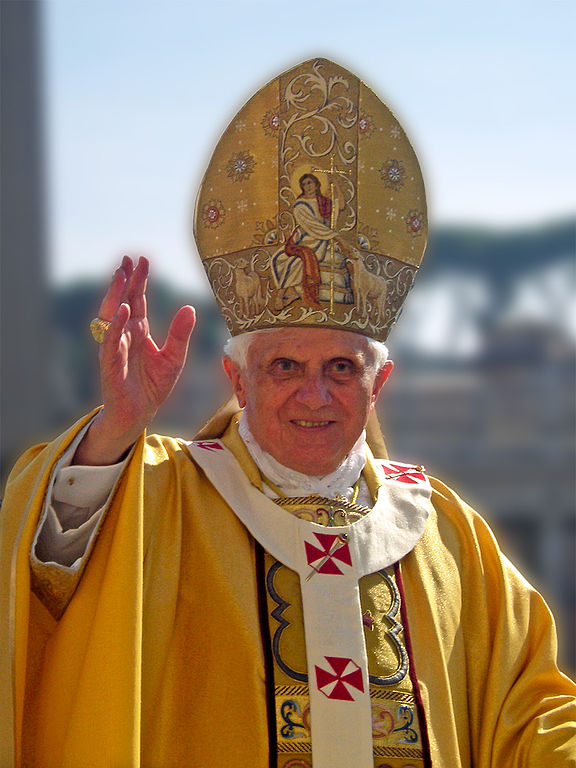 This weekend our pope emeritus, Pope Benedict XVI, was called home to his eternal reward. As we make our goodbyes to a beloved pope, the Church offers many traditions for us to mourn and pray for him.
At Saint Mark parish, we will celebrate a memorial Mass on Thursday, January 5th at 9:30 am – the same day Pope Benedict's funeral Mass will be offered in Rome.
Catholics everywhere are encouraged to pray for the pope. There are several traditional ways this might be done during the Novemdiales (the nine days of mourning after the death of a pope):
Joining in Masses offered for Pope Benedict XVI

Saint Mark's will be offering a Mass on Thursday, January 5th at 9:30 am
Archbishop Etienne will offer a Mass at Saint James cathedral on Monday, January 9th at 12:10 pm

Praying the traditional prayers for the Pope (the Our Father, Hail Mary, and Glory Be), ideally in common
The Office for the Dead (from the Liturgy of the Hours)
Archbishop Etienne has shared a personal reflection on the ways Pope Benedict XVI touched his life on his blog, as has Father Maurer on his blog. We have indeed been blessed by the many ways Pope Benedict XVI offered his 'yes' to the call of the Lord – may we together pray for his entrance into the heavenly kingdom.
V. Eternal rest grant unto him, O Lord.
R. And let the perpetual light shine upon him.
And may the souls of all the faithful departed, through the mercy of God, rest in peace. Amen.